AUDI RS6 4F Intercooler Introduction
2 April 2020 | WagnerTuningUK
Competition INTERCOOLER KIT for Audi RS6 C6 4F 426KW/580PS (2008-2010)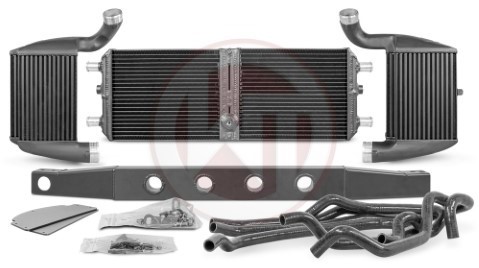 Available for cars without ACC HERE
Available for car fitted with ACC HERE
The WAGNERTUNING high-performance intercooler has got a new competition core (tube fin), which was developed especially for the high requirements of the Audi RS6 C6. Our newly developed HD-Fin type is used to provide the best possible performance. The outer dimensions for each intercooler core are 283 mm x 225 mm x 90 mm + 283 mm x 193 mm x 55 mm (stepped core: 8,73 liters) / 11,14Inch x 8,86Inch x 3,54Inch + 11,14Inch x 7,6Inch x 2,16Inch (stepped core: 532,74Inch³) This high-performance core offers a 79% larger core volume compared to the stock intercooler core.
The aluminium cast end tanks were designed in CAD and optimised in CFD simulations (for an ideal internal airflow). The result is a excellent cooling property with a minimal back pressure. An optimal cooling effect of the charged air with a significant increase in performance! That`s why this kit is perfect for racing use. The stock mounted plastic air guides can still be used.
The kit also includes new water cooler, which replace the stock mounted water cooler behind the intercooler. The new watercooler is place in the front behind the new cross member, which is also included to the kit. The installation is done by replacing the original intercooler and is easy to perform (plug and play).
An anti-corrosion powder coating with perfect heat-conducting properties protects the WAGNERTUNING intercooler from all environmental influences, so a lasting and optimal cooling effect can be guaranteed.
A short video showing the installation of our AUDI RS6 4F Intercooler Kit ...